Journalists' Kidnappers are Criminals.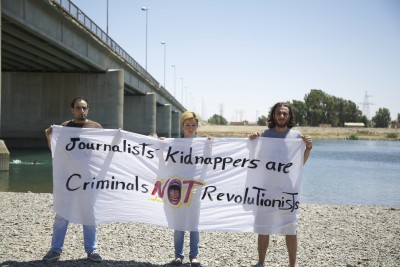 Syrians Against Kidnapping Journalists Poster on the Euphrates in Raqqa
Those who are kidnapping journalists in Syria are neither rebels nor revolutionaries. They are just criminals!
They DON'T represent our Dignity Revolution or what our martyrs have sacrificed their souls for, they symbolize the oppression and arbitrary arrests, which we have risen against.
Free our brave friends Obaida Battal and Marcin Scoud, the genial Polish photographer who didn't hesitate to pass his knowledge and experience to any citizen journalist.
Scoud offered to teach photography to anyone who was interested in all the areas he visited.
Free Didier Francois and Edouard Elias. Free James Foley and all the journalists, who came to our home.
Unarmed journalists only scare those who have something to hide, and liberated areas should be safe for them to explore with no fear. Unlike those places controlled by the ruling regime.
Whether these reporters came to help us, to film, write the truth or even seek personal glory, freedom is ultimately what we stand for and what we want for all.
To the kidnapped journalists' families: we are sorry, we do feel your pain. We have tens of thousands of detainees, abductees, and we also have relatives and friends who were killed under torture just for demanding their basic human rights.
Dear families, your beloved ones came to our land understanding the risks. They all did the "Surviving Hostile Environment" training to prepare themselves, and tried as best they could to prepare for the mental challenges. They chose to respond to the temptation of covering another war, another world failure ,and to see families in despair. They choose to see pain, pain and more pain.
We didn't have that luxury. We had no choices or support.
What the Committee to Protect Journalists considers as "the most dangerous place in the world for journalists" is our home. It's where we were born. Where we want to live, die and raise our children.
We were left alone to deal with one of the most cruel regimes the world has ever seen. We became so helpless that we couldn't turn away help, even from those who don't look, think, live or share the same ideals as Syrians do.
A prime example being the extremists that are now in the country, who I never came across over the course of my 27 years of living in different Syrian provinces.
When the ones who are supposed to protect human rights pay no attention to their responsibilities the world becomes a dark place.
I hope you won't lose your loved ones as we did and are still doing. I also hope you wouldn't feel the helpless pain we have been doing for almost three years. I hope your children won't be orphans, like the 6000 Syrian kids we have.
We will pray for you, and fight for your rights despite the danger, not because all the journalists who come to Syria are on our side, or deserve our sacrifices, but because this is the Syria that our beloved martyrs died for.
One of the Syrian journalists